Corbus Pharmaceuticals to Host Virtual 'Meet the Expert' Series (Session 2) on CRB-701 on October 10, 2023
NORWOOD, Mass., Oct. 03, 2023 (GLOBE NEWSWIRE) -- Corbus Pharmaceuticals Holdings, Inc. (NASDAQ: CRBP) ("Corbus" or the "Company"), a precision oncology company, today announced that it will host a Virtual 'Meet the Expert' event on the development of a next generation Nectin-4 antibody drug conjugate, focusing on opportunities and challenges for CRB-701, on Tuesday, October 10, 2023 at 10:30am ET. To register for the webinar, click here.

The event will feature several Oncology experts Daniel P. Petrylak, MD (Genitourinary, Yale School of Medicine), Ari Rosenberg, MD (Head and Neck, University of Chicago), Alexander Spira, MD, PhD, FACP (NSCLC, Virginia Cancer Specialists), and Paraic Kenny, PhD (Breast cancer, Translational Expert, Kabara Cancer Research Institute). The focus for this discussion is on the Nectin-4 targeting ADC (CRB-701) and the diverse indications relevant to its development. The discussion will define unmet needs, Nectin-4 biology and the features of differentiation in the design of CRB-701 relative to enfortumab vedotin (PADCEV). The panel comprises 3 medical oncologists covering GU, H&N and NSCLC tumors as well as a breast /translational expert. The panel members will provide their insights and answer questions from the audience. The panel will be moderated by Rachael Brake, PhD, CSO of Corbus.
We welcome the opportunity to consider questions for the panel prior to the event please email questions to questions@lifesciadvisors.com.
About Daniel P. Petrylak, MD
As Professor of Medicine and Urology at Yale School of Medicine, Dr. Daniel P. Petrylak is a pioneer in the research and development of new drugs and treatments to fight prostate, bladder, kidney and testicular cancer. Dr. Petrylak has been instrumental in the development of a number of immunotherapy and targeted therapies for refractory bladder cancer. His work with enfortumab vedotin has supported the accelerated and full FDA approval of this drug. Dr. Petrylak has authored more than 200 peer-reviewed articles and book chapters on prostate and bladder cancer research outcomes. He received his MD from Case Western Reserve University School of Medicine and joined the Yale faculty in 2012.
About Ari Rosenberg, MD
Dr. Rosenberg is an Assistant Professor of Medicine at the University of Chicago and a practicing medical oncologist. Dr Rosenberg specializes in using basic, translation and clinical research to improve the lives of his patients with head and neck cancer (HNC) and thyroid cancer. As a clinical investigator, Dr. Rosenberg develops and conducts clinical trials for patients while incorporating novel tissue and blood-based biomarkers. He has a particular focus on incorporating novel therapies and immunotherapeutic strategies, as well as developing multimodality treatment paradigms to reduce treatment-related toxicity. Dr Rosenberg is an investigator participating in the EV-202 (NCT04225117) trial currently exploring the utility of a Nectin-4 targeting ADC in late stage HNC patients.
About Alexander Spira, MD, PhD, FACP
As Director of the Virginia Cancer Specialists (VCS) Research Institute and the Phase I Trial Program, Dr. Spira is actively involved in advancing medicine and offering targeted treatment options for patients. Dr. Spira specializes in immunotherapy, personalized medicine, thoracic and lung cancer and GI and sarcomas. Dr. Spira is also Co-Chair of the US Oncology Thoracic Oncology Committee, and is a faculty member at Johns Hopkins School of Medicine, and serves as Assistant Professor of Oncology. Dr Spira joins us to discuss the landscape of NSCLC and the potential role of targeting Nectin-4 expression by CRB-701.
About Paraic Kenny, PhD
As the Director of the Kabara Cancer Research Institute of the Gundersen Medical Foundation, and a Clinical Adjunct Associate Professor of Medicine at the University of Wisconsin Dr Kenny's interests span basic translational, and clinical research in breast cancer and other solid malignancies, with a major focus on genomics, precision medicine, and drug discovery. Serving on a state-wide molecular tumor board that has delivered more than 8000 clinical recommendations since 2015, Dr. Kenny provides subject matter expertise, decision support on treatment choice, and advice on clinical trials, to oncologists across Wisconsin. Dr Kenny's personal interest in ADCs stems from the development of his own experimental therapeutic GMF-1A3 targeting amphiregulin and brings a breadth and depth of experience to the rapidly expanding ADC field.
About Corbus 
Corbus Pharmaceuticals Holdings, Inc. (the "Company" or "Corbus") is a precision oncology company committed to helping people defeat serious illness by bringing innovative scientific approaches to well understood biological pathways. Corbus' internal development pipeline includes CRB-701, a next generation antibody drug conjugate (ADC) that targets the expression of Nectin-4 on cancer cells to release a cytotoxic payload and CRB-601, an anti-integrin monoclonal antibody which blocks the activation of TGFβ expressed on cancer cells. Corbus is headquartered in Norwood, Massachusetts. For more information on Corbus, visit corbuspharma.com. Connect with us on Twitter, LinkedIn and Facebook.
Forward-Looking Statements 
This press release contains certain forward-looking statements within the meaning of Section 27A of the Securities Act of 1933 and Section 21E of the Securities Exchange Act of 1934 and Private Securities Litigation Reform Act, as amended, including those relating to the Company's restructuring, trial results, product development, clinical and regulatory timelines, market opportunity, competitive position, possible or assumed future results of operations, business strategies, potential growth opportunities and other statement that are predictive in nature. These forward-looking statements are based on current expectations, estimates, forecasts and projections about the industry and markets in which we operate and management's current beliefs and assumptions.
These statements may be identified by the use of forward-looking expressions, including, but not limited to, "expect," "anticipate," "intend," "plan," "believe," "estimate," "potential," "predict," "project," "should," "would" and similar expressions and the negatives of those terms. These statements relate to future events or our financial performance and involve known and unknown risks, uncertainties, and other factors on our operations, clinical development plans and timelines, which may cause actual results, performance or achievements to be materially different from any future results, performance or achievements expressed or implied by the forward-looking statements. Such factors include those set forth in the Company's filings with the Securities and Exchange Commission. Prospective investors are cautioned not to place undue reliance on such forward-looking statements, which speak only as of the date of this press release. The Company undertakes no obligation to publicly update any forward-looking statement, whether as a result of new information, future events or otherwise.
INVESTOR CONTACT: 
Sean Moran
Chief Financial Officer
Corbus Pharmaceuticals
smoran@corbuspharma.com 
Bruce Mackle 
Managing Director
LifeSci Advisors, LLC
bmackle@lifesciadvisors.com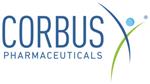 Source: Corbus Pharmaceuticals Holdings, Inc.
Released October 3, 2023